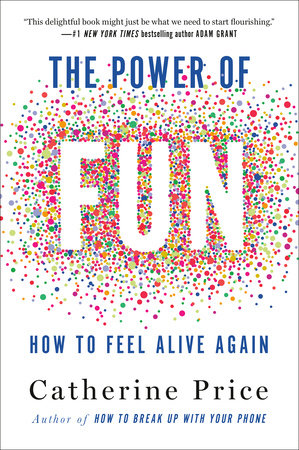 I read The Power of Fun by Catherine Price at the beginning of this year and it was a wonderful way to jumpstart a year of living in the moment. After having my daughter at the end of January, I remember rocking her in the middle of the night questioning how I was going to savor the newborn days. Then I remembered this book!
The Power of Fun by Catherine Price
The Power of fun is broken down into two parts. The first is a discussion of what fun is and how we, as adults, are constantly doing things we think are fun (watching Netflix, scrolling social media, etc.) but are actually stopping us from having true fun.
The second part of the book delves into all of Price's tips and tricks on how to create fun in your own life. This can be done by pursuing passions or setting up ways to attract fun.
Price's definition of true fun is the place where playfulness, connection, and flow converge. This means, that in order to truly have fun you need to be lighthearted and free, create a feeling of having a special, shared experience, and fall into a state of flow (time flies when your having fun) all at the same time. When you are able to do this, you achieve joy.
I really connected with this book. Price went into detail about how she caught herself mindlessly scrolling on her phone while nursing her daughter. As a first time mom, I worried I would do the same. Luckily, this book came to me at the right moment. When I brought my daughter home from the hospital I already knew how to attract fun. I could be more present.
As the year has gone on I revisit Price's advice to stay in the moment. I highly recommend you do the same!
Have you read The Power of Fun? How are you going to introduce more fun into your life?
Find out how to make fall sensory bags for babies here.